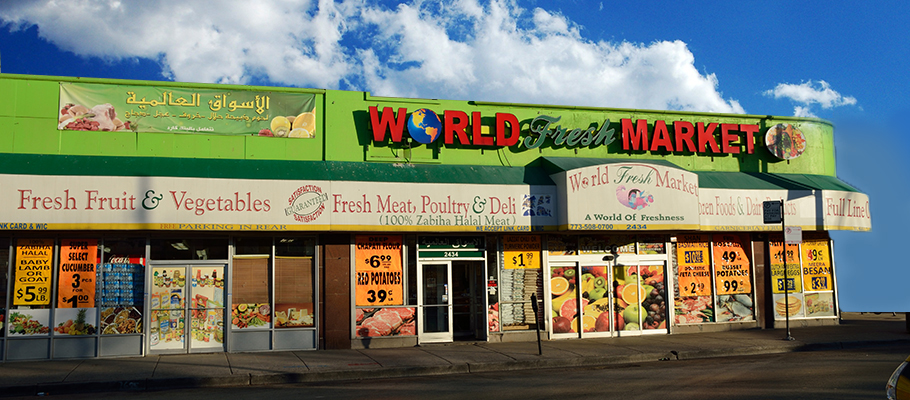 About Us
WORLD FRESH MARKET, A local Chicago family owned supermarket located in Uptown Chicago just off of Devon. Join our family in engulfing all of Chicago and American prideful diversified culture and rarity. With their Middle Eastern produce market experience, they have advanced their methods with guarantees of freshness and the highest of qualities any consumer could strive for. From their wide variety of produce, dairy, meat and poultry, they excel in organizational growth and development within the community they take the highest of pride from. Being honored by their local community they try their best to encompass and grow unified with the community hand in hand, striving for the highest of consumer services, goods, and prices.
OUR MISSION STATEMENT
We aspire to achieve all local necessities from grocery, produce, meat, and nonfood products. We strive to attain the highest of consumer standards in service and products all while we grow and develop within our own community.
VISION STATEMENT
We seek to attain all these grand goals by communication with our consumer and bridging the gap of consumer and supermarkets, by doing such we aim to end a constant stigma of exploitation of the consumer with high quality and low prices.
STATEMENT OF WORK
We, Your World Fresh Market Family, vouch and promise to strive for nothing but the best for our customers and our products. We guarantee the highest quality of 100% Zabiha Halal Meat and never to fall short to the highest bar in consumer standards. We will be inclusive of everyone, and venture new horizons no other supermarket would attempt. Whether it be consumer concerns or desires we will do all we can to guarantee The World Fresh Guarantee, and that is no less than the best.